Order Flowers now for guaranteed delivery before Alice 's visitation.
Alice Marie (Lunger) Corcoran
Alice Marie (Lunger) Corcoran, age 84, of 17 Spruce Street, Bloomsburg (Carroll Park) died at the Geisinger Medical Center, Danville on Tuesday January 4, 2022.

Born on May 7, 1937 in Mahoning Twp., Montour County, a daughter of the late William J. and Alice F. (Brady) Lunger. She was a graduate of the former St. Cyril Academy in Danville. She resided in Bloomsburg for 60 years.
Alice was employed as an administrative assistant for the former law firm of Hummel, James & Mihalik, Bloomsburg, for ten years.
She was an active member of St. Columba Catholic Church where she volunteered in the school cafeteria. At one time she had been a member of the Central Columbia High School Wrestling Booster's Club. She collected recipes and enjoyed cooking for her family. On of her hobbies was making ceramics. A highlight of her life was a trip to Ireland. She looked forward to her annual trips to the Outer Banks in North Carolina.
In addition to her parents, she was preceded in death by her husband William E. Corcoran on August 18, 2016.
She is survived by three sons; William J. Corcoran who resided with her, Michael J. Corcoran and his wife Christina, North Royersford, and Stephen B. Corcoran of Wyomissing; six grandchildren; Megan, Sean, Caitlin, Ryan, Joshua and Shea; a sister Mary wife of Joseph Millard, Sunset Beach, N.C., and a number of nieces and nephews.
At the request of the deceased there will be no viewing or public services. Burial will be made at the convenience of the family in New Rosemont Cemetery, Espy.
In lieu of flowers, please consider a donation to Susquehanna Service Dogs at: www.susquehannaservicedogs.org
Arrangements have been entrusted to the care of Dean W. Kriner, Inc. Funeral Home & Cremation Service, 325 Market Street, Bloomsburg.
Condolence messages and photographs may be posted at www.krinerfuneralhomes.com
To plant memorial trees or send flowers to the family in memory of Alice Corcoran, please visit our flower store.
---
Guestbook
Alice Marie and I were childhood friends which continued into our teens..Sadly after we married and she moved to Bloomsburg we lost touch..But I have many memories..She played the piano excellently and we'd sing along..To "Lavenders Blue" and "Four Leaf Clover" among others..We even contacted the measles at the same time..Never did figure out who gave to who. Loved going to her house which was filled with so much warmth and love..Great memories..Carole Frye Phillips Semo..
Carole Semo Jan 12 2022 1:27 PM
A candle was lit in memory of Alice Corcoran
Carol Rakich Jan 9 2022 10:38 AM
Bill, Mike and Steve,
So sorry for the loss of your mom. We will never forget all the fun we had at your home after all the wrestling matches! The memories will forever be in our hearts! God Bless.
Charlene English, Carol and Carolyn Rakich Jan 9 2022 10:37 AM
2 photos were added for Alice Marie (Lunger) Corcoran
Michael Corcoran Jan 8 2022 7:31 PM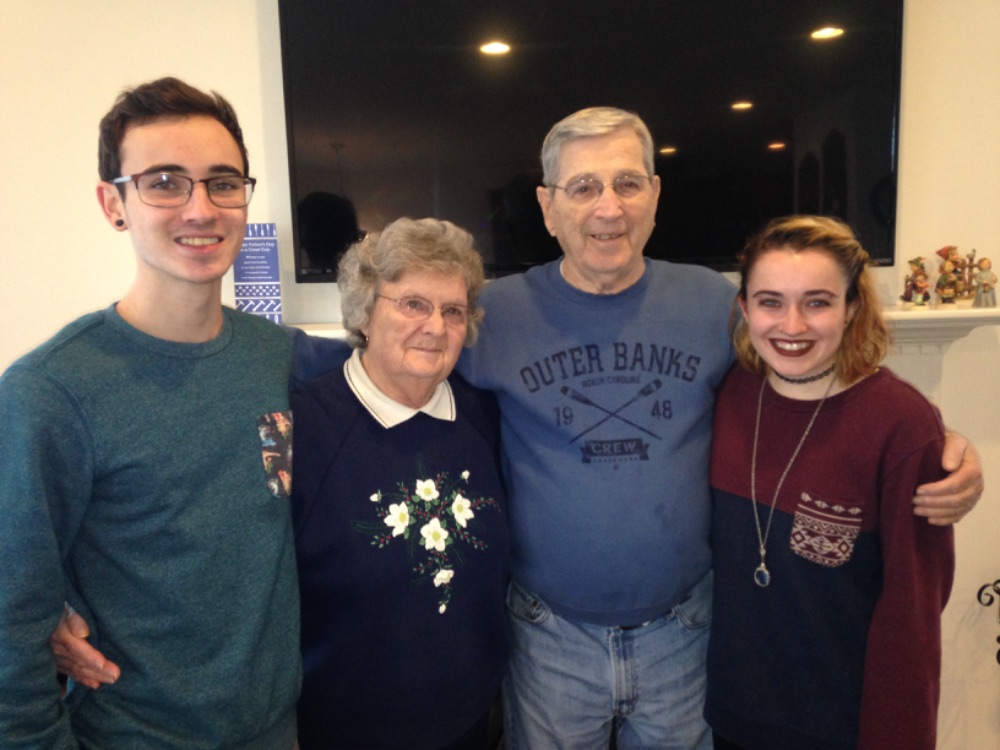 2 photos were added for Alice Marie (Lunger) Corcoran
Michael Corcoran Jan 8 2022 7:19 PM
So sorry for your loss! Alice Marie was a wonderful lady! Working with her was a wonderful experience. We had many funny and great times. You will be missed!
Jonna Hagemeyer Jan 7 2022 9:29 PM
A candle was lit in memory of Alice Corcoran
Jonna Hagemeyer Jan 7 2022 9:27 PM
Bill, Mike and Steve , You were so good to your Mom! Im so sorry for your loss. So many memories of my Aunt Alice. A tiny person outside , who really was a giant inside, strong and steady, weathering storms, and always with a good attitude , looking forward. She loved her children and grandchildren and spoke so highly of them all. This little lady was a rock. Happy and funny, speaking kindly of others, an encourager. I know I'll see you again Aunt Alice. Love, Patti
Patti trump Jan 7 2022 7:09 PM
So very sorry . Alice was a lovely kind woman. She will be missed by her sons and her sister Mary.
She is now at peace with her devoted husband Bill. RIP in God's care. Jean Kosh
4 arch street Redwood City CA Jan 7 2022 6:31 PM
So sorry for your loss. She was like a second grandmother to me. She was just a fun lady.

Eli Lynn Jan 7 2022 12:47 PM
Show More Entries